Patient Reviews
Mr Kapoor was recommended to me by my GP surgery when my pains did not respond to medication, physio or acupuncture. I was given all the information and reassurance needed to have surgery.

Following successful microsurgery to relieve pressure on my femoral nerve I have been pain free.

I should like to thank him and his team most sincerely. I have already recommended two of my friends to your care.

Thanks again,

Josh Travis ( and family too! )

What were your symptoms?

Excruciating pain in my legs and right shin, unable to walk more than 10 yards, severe cramp and depression brought on by the above.

Why did you choose Mr Kapoor and The Alexandra Hospital?

I chose Doctor Kapoor because of his experience knowledge and superb reassurances, fear is large factor in undergoing such operations, however once I had my consultation meeting with Doctor Kapoor I was actually looking forward to the operation.

What was your experience of the care given to you by Mr Kapoor and The Alexandra Hospital?

I received 100% care from everyone at the hospital and I would recommend Doctor Kapoor and all his team.

How has the procedure changed your life for the better?

My life has changed radically, all the things I was unable to do have returned, my confidence has returned and the sickening depression has gone too, I have no more pain and feel released, I really don't know how to thank you all. Thank you !!!

Regards,

Peter Bates

Just to set the scene roughly 12 months ago I was suffering with agonizing lower back pain, unable to walk very far and needing an array of various tablets to function. I had total degeneration of the disc at L5S1. On discussion with Mr Kapoor it was decided that would benefit from a spinal fusion operation and I agreed. Let me tell you that that was the best decision I ever made. I couldn't have asked for better results! I will tell you that the pain immediately after the 2 operations was intense but also well managed and the after-care provide was superb (physio-therapy etc.) 6 weeks or so before the operation literally in pain every minute of every day and totally dependent on strong painkillers just to get up to what I believe is a life-changing result. 6 weeks post operation I was back at work part time. 8 weeks post operation I was back at the gym doing light exercise and I highly recommend swimming as good rehab. 12 weeks post operation I was able to go back to work full time and increase my gym sessions to 3 times a week including running (for the first time in what seems like an age).

Now 10 months has past and albeit on occasions the odd twinge I am virtually 100% fused and fixed permanently.

I could not stress enough how much this operation has changed my life and I would urge anyone who is faced with this decision to strongly trust Mr Kapoor's judgement and seriously consider having this operation done. It could very much change your life!

Rupert Martin (successful spinal fusion patient)

I'm very grateful for everything that you have done for me in regards to my Spinal Fusion operation. From the diagnosis, the operation and to the aftercare you reassured me that you would take care of me and you did. Although there were a few nerves on my part, I knew that I was in the right hands. I would just like to say thank you for everything you've done for me and hopefully I'll be playing golf again very soon.

Craig Nesbit

I had L5/S1 spinal fusion surgery with Mr Kapoor in Sept 2018, following many years of severe back pain & sciatica. The whole process of diagnosis, through to surgery was conducted in a thorough & highly profesional standard. Mr Kapoor explained the procedure & recovery times very clearly & enabled me to make an informed decission to proceed with surgery.

I prepaired myself by doing as much core training, as pain would allow on the run up to the procedure. One week after surgery I was walking a little further each day.

Six months later, I'm very happy to say that I've made a complete recovery, 100% pain free & enjoying the simple things in life like sporting activities with my kids & training at the gym.

I would like to thank Mr Kapoor & his team for returning my quality of life & enabling me to concentrate on running my business, without the constant interuption of back pain.

Brendon Hunt

I had back surgery under Mr Kapoor earlier this year,as expected I was very nervous and apprehensive about it but I could no longer live with the pain,being virtually house bound and watching my life pass me by. All of his team including his secretary were dedicated to getting me back to a 'normal life'. Several months on I am now mobile,I swim,walk my dog and enjoy my grandchildren,the difference is amazing. Though it has been a hard slog it's now hard to imagine how bad I was before my operation. I can't recommend Mr Kapoor and his team high enough for their hard work and total understanding of what I was going through,they have literally changed my life.

Dianne Hardy

Hi there, I had severed with back pain quite often incapacitating for about 6 years tried everything as spinal surgery is not a small matter however I met Mr Kapoor and I would recomend him to anyone not only did he put me at ease we talked me through ever step from pre surgery to rehab the whole team around him as well were superb! I had a lower spinal fusion and I'm better than I have been since I can remember, Mr Kapoor has given me my mobility back and I can't thank him enough.

Anonymous

My name is Dennis Prince. All I can say is that Mr Kapoor is one excellent surgeon and man. I would place my full trust in the hands of Mr Kapoor beyond an doubt.

Dennis Prince

I am a more knowlegable patient than most as i work in the NHS, however this consultant spinal surgeon and the team are worthy of recognition. as an ex nurse i have had spinal problems for many years, and it was this team and new surgical techniques that have restored me to almost perfect. It is the new surgical techniques and implants that have advanced so much over past 10 years and it is a shame that we cant fully fund the roll out of these to enable more patients to have these procedures. i did have to wait several months for my surgery as its a long operation, and thats where the pain management team offered excellent care as well. perhaps we should be able to rate teams not just individuals.

Anonymous

Dear Mr Kapoor,

It is with great pleasure that I can write about my resent spinal fusion. From the moment of the first consultation, you made me feel confident that I was doing the right thing for my health. Not only were you very knowledgeable around the procedure you also talked me through all the specifics that I wanted to know as well as recovery plan. Through every appointment you have been extremely positive and have now honestly changed my life for the better and not only is my back now stronger and I can do more! Overall the whole experience has been one that has filled me with confidence and provided a new lease of life I felt was impossible before the surgery, I would highly recommend Mr Kapoor and his team for anyone consideration when looking at spinal procedures.

Nic Brindle
Surgery Cements Painless Future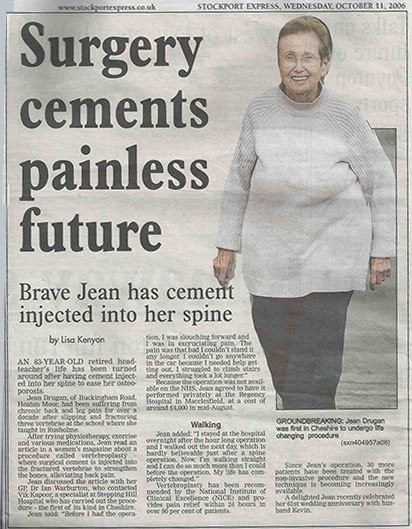 I have had two major spine operations by Mr Kapoor. Both have been successful. I found Mr Kapoor to be a most considerate and understanding specialist, in whom I have the utmost confidence. Without his medical skills I would now be in a wheel chair, whereas my mobility is completely restored. I would , and do, recommend Mr Kapoor to friends and acquaintances.

Carole Smart

I was in so much pain, it was agony. I could not drive or do everyday things. Mr Kapoor suggested the operation with the risk it may not work. The pain was so bad I would have tried anything. After the surgery I was in pain, but nowhere like the pain I had before the operation. It took around 6 months before I felt more or less back to normal. There is a slight discomfort, but thankfully the operation has improved my quality of life so much. I would definitely recommend it to anyone, who Mr Vik Kapoor thinks may benefit from it. I would recommend him to anyone with back problems. My son is also seeing him as he has back problems too. Thank you so much Mr Kapoor.

Mrs L Alderson (Manchester)

Mr Kapoor saved me from having to spend the rest of my life in a wheelchair. The base of my spine had collapsed and was crushing nerves and pressing on my spinal cord. Initially, I suspected, he was concerned about my age (I was 86yrs when he operated) and the complications of the surgery. The obvious concentration of over 4 hours of surgery could not have been easy for my wife and I will be forever grateful to him, for his skill, knowledge and experience. I am so pleased that he took what was a calculated risk assessment even though, apart from the spinal problems, I considered myself to be reasonably fit for my age. I call him (Mr Kapoor) "my miracle man" and it gives me a great deal of pleasure be able to express my appreciation of Mr Kapoor's surgical skills.

Arthur E. Redfern (Cheshire)

In December 2015 I was referred to Mr Vik Kapoor because of severe pain in the right arm resulting from spinal stenosis. A scan revealed C4/5 C5/6, and C6/7 exit foraminal stenosis with nerve root compression.
Mr Kapoor initially attempted to treat this problem with cervical nerve root injections under x-ray control. Relief lasted only a few weeks until there was a recurrence of the pain. Mr Kapoor said "we have to bite the bullet and operate." On 13th May 2016 he carried out a decompression of the nerve roots with ACD fusion of C5/6 and C4/5, with a disc replacement of C6/7. Apparently the operation lasted for 6 hours. "We have to be careful when dealing with the nerves" commented Mr Kapoor after surgery. I made a good recovery and have remained symptomless ever since.

Throughout the 5 months of symptoms and treatment, I received from Mr Kapoor the most excellent care and advice, given in a clear gentlemanly manner. I have to admire his skill and patience in dealing with problems at three levels in my cervical spine, whilst protecting the surrounding tissues. I am so grateful to him. I have already advised friends and acquaintances to seek his advice on spinal problems, and will continue to do so.

Dr Edward Thomas (9/7/17)

Mr Kapoor successfully did my spinal fusion operation in May 2014. So far so good. In fact I celebrated my 40th birthday by doing an indoor dive with sharks! following my surgery

Kirsteen Yates

Dear Mr Kapoor I wanted to give you my update and warn you I have recommended you to several people along the way who have told me stories of friends and family who have spinal issues.

After my private consultation with you at the regency and having been given up on by the others you operated at Stepping Hill Sept 28th 2015. I did let your registars know how grateful I was on my discharge but you will always be in my thoughts and I wanted to know how much your skills in theatre are really appreciated by your patients (obviously you are my no 1 fan) as i am sure it is often a tough job.

I am not a runner and probably never will be very good BUT i am doing it and getting such a buzz. I still get comments from neighbours when they see me walking about, compared with how i was...unable to walk to my car easily or even make a cup of tea .

I will always have back pain amd take a cushion with me on long journeys etc but in comparison i cant complain at all. I am mobile.

Thank you and your team once again.

Andrea Felix

An independent survey was carried out in 2016 by a large private insurer for patients treated by Mr Kapoor

Here are some of the comments shared by his patients

I cannot fault my consultant in any way and would recommend him to anybody else with the same condition. He was very caring and understanding of my needs.
A caring person with knowledge of his expert field.
Mr Kapoor's expertise is without question. I would not hesitate to recommend him.
Mr Kapoor has an excellent team working with him at The Regency Hospital.